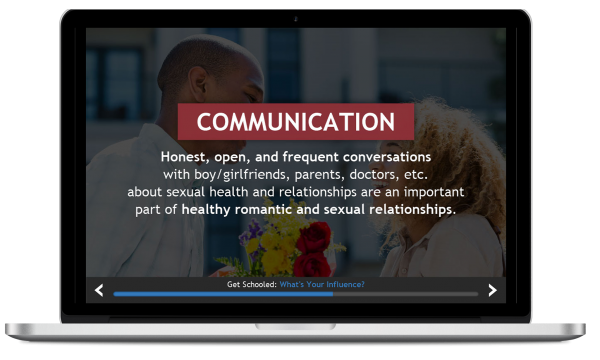 EFFECTIVE
The programs have been found to positively impact youth sexual and relationship health outcomes.
ENGAGING
Each program uses contemporary and relevant media examples to prompt students to examine their own favorite media.
EMPOWERING
Students will build critical thinking skills and be able to use their skills to make informed and healthy choices.
WHAT ARE THE MEDIA AWARE PROGRAMS?
The Media Aware programs are comprehensive sexual health programs for middle and high school students that use a media literacy education approach. Through media literacy education, students will learn to access, analyze, evaluate, and produce media messages. Many adolescents learn about sex from media, but the messages they're exposed to are not always accurate or healthy. The Media Aware programs give students both medically-accurate sexual health information and the tools to think critically about the media they consume.
The Media Aware programs were designed to meet state guidelines across the country, including North Carolina's Health Youth Act's Reproductive Health and Safety Education guidelines. Additionally, the programs are in complete accordance with the Sexuality Information and Education Council of the United States (SIECUS) recommendations on comprehensive sexuality education, and have been reviewed using the CDC's Sexual Health Education Curriculum Analysis Tool (SHECAT).
Media Aware- High School is available now and is affordably priced for both individuals and bulk purchases. For enhanced coverage of LBGTQ+ topics, check out Media Aware 360, which includes the full high school program as well as more in-depth information on sexual orientation, gender identity, and more.